---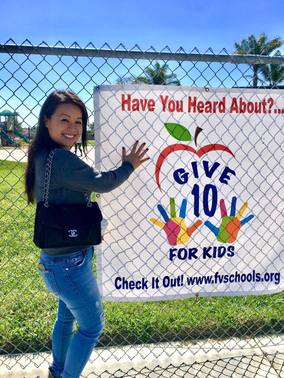 Join the GIVE 10-4 KIDS CLUB
No matter the size, every gift makes a difference. But your steady, reliable support goes a step beyond. Each and every day, monthly recurring gifts go to work immediately to deliver extraordinary opportunities for learning and discovery.
An easy way to ensure support for what matters to you is to set up a recurring gift with a monthly donation-charged to your credit or debit card.
For example, you can join Give10 for KIDS with a monthly gift of just $10.
How does it work?
​Set up your gift one time, and it will automatically deduct from your credit card according to your preferences, including:
Amount deducted per payment ($10 minimum) and the duration.
Stop or adjust your gift at any time by contacting iDonate@fvschools.org
Your online donation is secure and flexible, and while your gift is active, you will receive fewer requests for your support throughout the year.
If you have questions about your recurring gift, contact us at iDonate@fvschools.org or call us at (714) 495-4102

* One-time gifts are always welcome
---
Our Give 10 for Kids Partners
Tom Antal * Laura Brooks * Steve Brown * William Cameron * Rachelle Chawke * Ian & Julie Collins * James and Lisa Diecidue * Stacey Duncan * Marc Ecker * Judy Edwards * Brian Genovese * Bonnie Hanson * Bob Herman * Jean Hardy * Sally and Gary Hickman * John Hoffman * Mark Johnson * Cheryl Jones * Ray and Lisa Kudukis * Steven McLaughlin * Shelby Mirrotto * Tim and Joy Moyers * Cheryl Norton * Jo An Poirel * Sandy Pringle * Lisa Schultz * Chelsea Sievers * Thuan Tran * David Truong * Angela Vanderburgh * Connie Wadsley * Melissa Watanabe *