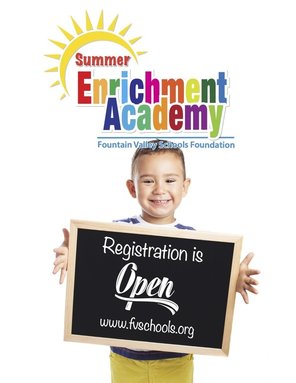 REGISTRATION NOW OPEN

The first session classes will cost $140 per period until June 1; $150 after. Session two, which is ten days long, costs $175 before June 1 and $190 after.
This summer, middle school students entering grades 6 – 8 will be able to create in Woodshop, get fit in Summer Sports and Fit Camp, or enjoy watching and analyzing movies in Film as Literature at Fulton.
​
Plavan will continue to offer a variety of classes for students in grades K – 8. A new feature this year is that classes will be sold separately by period, allowing your student a wider choice. (Follow the links to the Course Descriptions and Schedule)
We look forward to seeing you all this summer!
QUESTIONS? NEED HELP?
Email us at
Brooke@fvschools.org
* Please DO NOT call the Foundation
---
---
---
| | |
| --- | --- |
| Financial assistance is available for qualifying families whose children wish to participate in Summer Enrichment Academy courses. Scholarships will be provided as funds are available. Scholarships are awarded on a first come, first served basis. A new request will be required for each child and each session. | |